TJ's Gym Weekly News 02/22/2019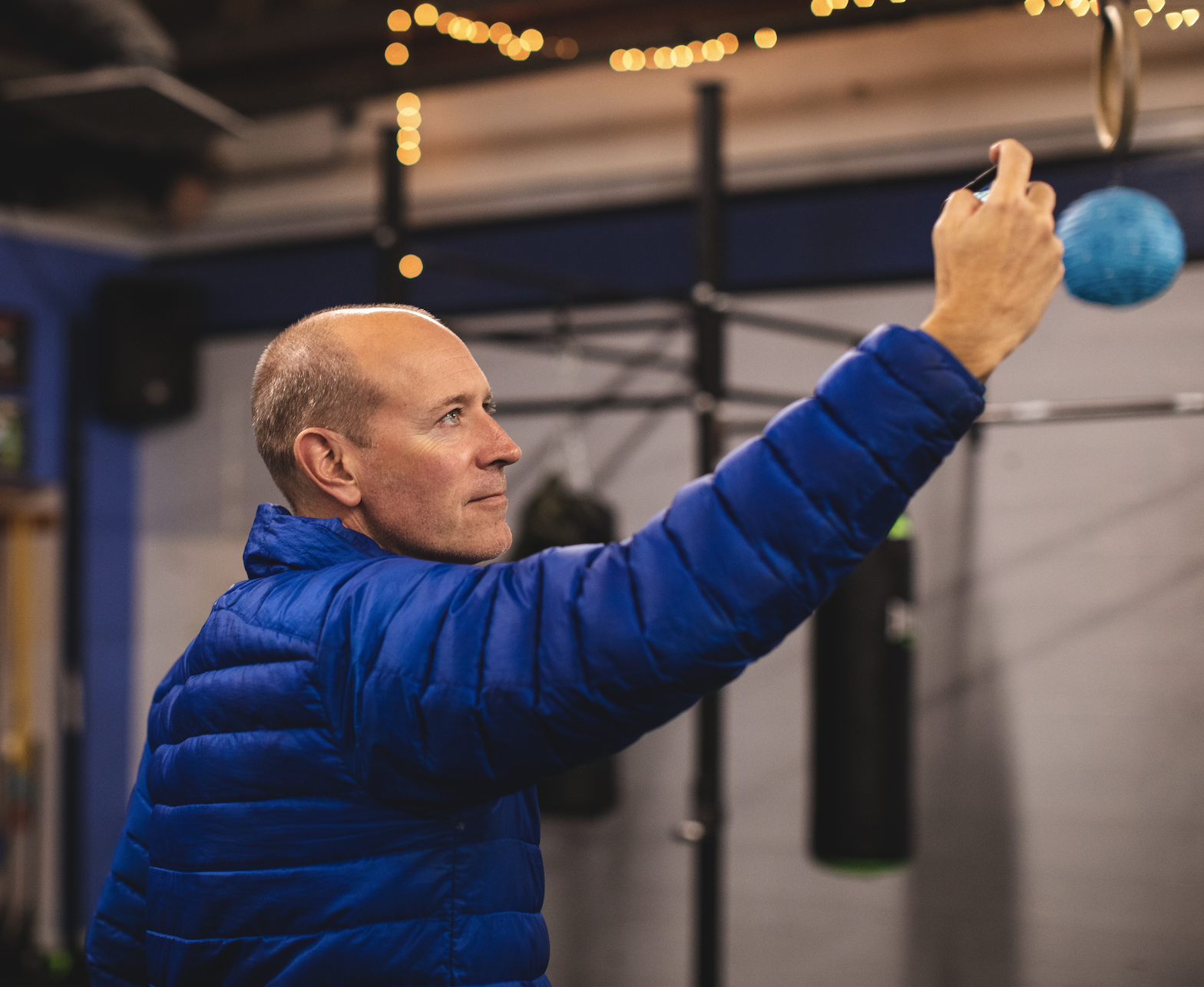 Today, Monday 2/25, is TJ's 50th birthday! I (Allison) chose this photo of him, because it shows him taking a picture of the San Rafael gym, all spruced up, just before the 2018 holiday party. To me, this photo reflects TJ's deep sense of pride and gratitude for all that TJ's Gym means for our family and for so many others. If you have a minute, please email him a birthday message today at tj@tjsgym.com.
We all know that TJ is a great man. He is empathic, intuitive, driven, kind, creative, loving, and funny. He can connect with ANYONE. He's an incredible husband, father, and coach. He's the kind of guy others want to be around. He makes everyone around him better. Period. One of the characteristics about TJ that impresses me most is his work ethic. Nobody outworks TJ. In fact, he has said many times that the one thing he could always count on throughout a rather rocky childhood, adolescence, and early young adulthood was that he could outwork anybody. Once driven by a survival instinct, TJ's motives are now about two goals: providing for his family and helping people live better lives. It's pretty simple. He will do just about anything to make those things happen for the second half of his wonderful life. In celebration of TJ and his work ethic, below is a quick list of just some of the paying jobs he has held over the past 50 years. Please email tj@tjsgym.com TODAY to wish him a happy 50th! Thank you all for being a part of one of the reasons that TJ's life is so rewarding and fulfilling at age 50. We are truly grateful for this work life and the friendships it has allowed us to nurture.
Middle school: newspaper boy, landscape worker
High school: clean-up boy for pharmacy, janitor at school during summer, bagel maker at bagel shop, gas pumper, stock boy at a sporting good's store, restaurant busboy/food prep
College: Athletic department guy (lined the fields, weight room attendant, set up and broke down events), gas pumper, construction worker, flower delivery guy, pool maintenance and construction
Post college: waiter in wedding hall, video store clerk, lumber yard, substitute PE teacher, basketball coach, Extra in films, stock boy in men's underwear section of Emporium (my personal favorite), bouncer/bar back, bartender, catering staff, office temp, food delivery guy in financial district, weight room attendant at 24 Hour Fitness, personal trainer, OWNER OF TJ's GYM!
TJ has requested NO gifts, please! If you're compelled to do something to honor his 50th, please watch this quick video to see what he'd like for his birthday.
Message from TJ: TJ's Gym 2019 Crossfit™Open. #fearthehome
We are thrilled to be offering this unique seminar for high school juniors and seniors, as a fundraiser for local schools. Please share with anyone who might be interested!
THE 2019 CROSSFIT™ OPEN IS UNDERWAY! THE First workout is in the books!
OUR GYM-GYM-GYM COMPETITION IS BACK! For those who are curious, each week, each gym will choose a "Prescribed (Rx)" athlete and a scaled athletes to go head-to head-to head, competing to be the Champ of the week. We have a new, GOLD winner's belt this year, and it's ready to find a home each week. The Open workouts will be scheduled as our class workouts each Saturday. We've got a scheduling tool via Facebook group or email, where you can sign up for a time to do your workout and be judged. If you want to be around some great energy over the next month, show up at one of the gyms on a Saturday morning!
NEW TJ's APPAREL AVAILABLE FOR PRE-ORDERS!
"Throw Hands" BOxING Session NUMBER Two started on February 5th! Join us!
Our second session of Throw Hands boxing and fitness is underway! We prorate, so you can start any time. Join Coach Paul, and have a blast getting fit through boxing! Email jessica@tjsgym.com with any questions.
REGISTRATION IS ON for our RUNNING STRONG program, now in san rafael and MILL VALLEY! Our next session starts on Tuesday, February 26th!
Email jessica@tjsgym.com NOW to hold your spot and get in on our online content.
registration IS ongoing for our youth fitness program!
See our full youth schedule below. Additional times available upon request.
Corte Madera Teens (ages 12-16): Mondays / Wednesdays / Fridays 4-5pm*
*M/W/F are our more advanced teens
Corte Madera Teens Tuesdays/Thursdays 3:30-4:30 ages 13-15
Corte Madera Tweens Tuesdays/Thursdays 4:30-5:30 ages 9-12
Corte Madera Teens (ages 12-16): Saturdays 11am
San Rafael Teens (ages 12-16): Tuesdays 4-5pm
Mill Valley Teens (ages 12-16): Tuesdays and Thursdays 4:00-5:00pm
Mill Valley Teens (ages 12 - 16) Wednesdays 4 pm
Corte Madera Kids (ages 4 - 6) Sundays 10:30 - 11:00 am
Corte Madera Kids (7 - 9) Sundays 11:05 - 11:50 am
our legends are awesome! Spread the word to your friends and family ages 60+!
We are hoping to expand this program to all locations!
You can always find updated announcements AND WEEKLY WORKOUTS on our HOME PAGE.